Ratan Tata Net Worth
$1 Billion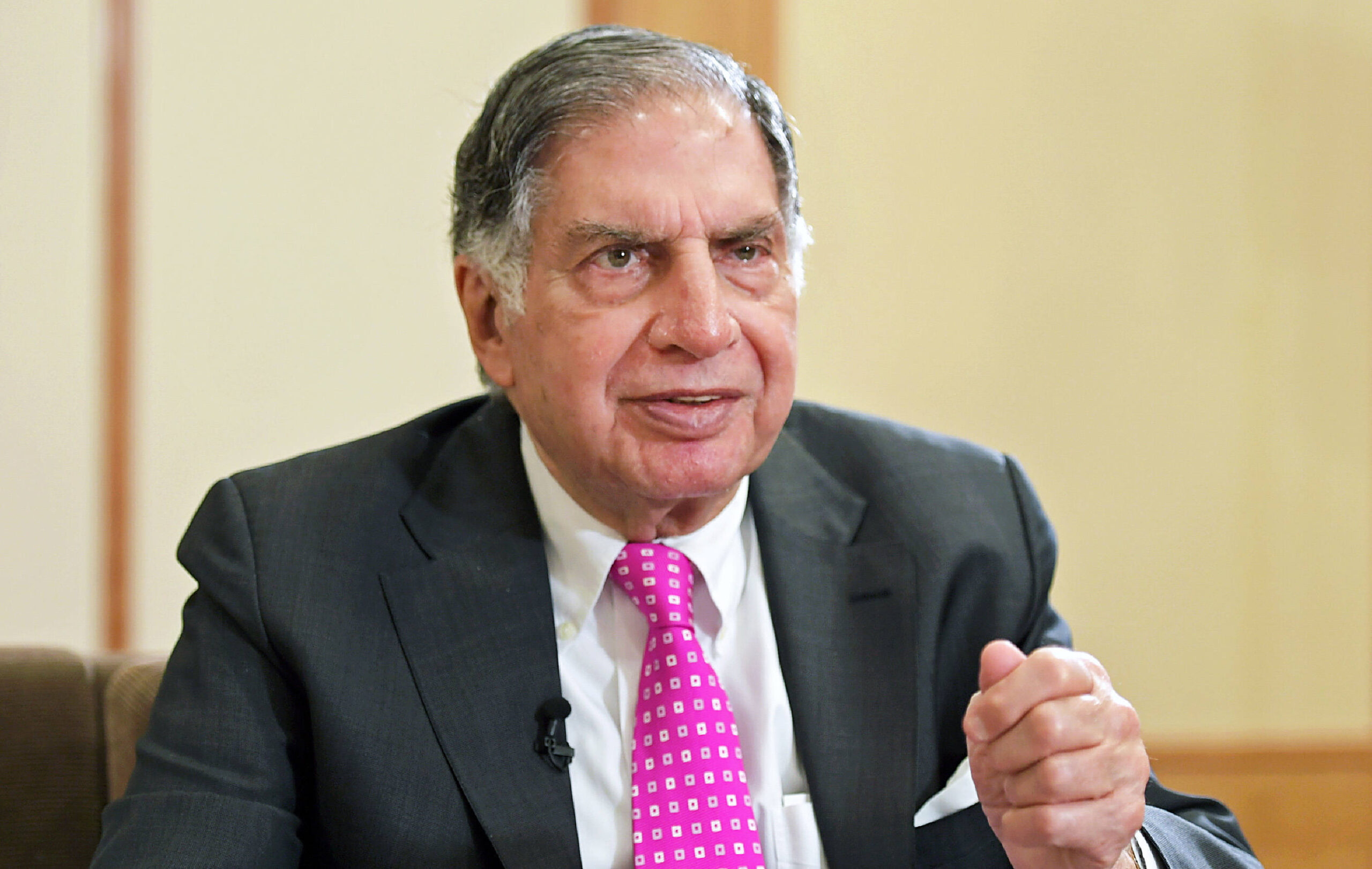 The Tata group owner and a former chairman of Tata Sons, Ratan Tata, has a personal net worth of $1 Billion.
Ratan Tata is an Indian businessman, industrialist, investor, and philanthropist known for his visionary works and massive charities.
The Tata group has more than 100 companies whose market capitalization when combined, is more than $145 billion.
4 out of 5 Indian's highest-ranked companies belong to the Tata group and Ratan Tata.
The reason because Ratan Tata's personal net worth never crosses $1 billion is because he donates 65% of his earnings to various charitable causes.
He could have been the world's richest man on papers if he stopped donating to charitable trusts.
Tata group of companies sell their products & services in 150 countries, have more than 4.1 million shareholders, and 700,000 employees.
Tata group is India's largest conglomerate with more than 100 companies, out of which 29 are publicly listed companies.
Tata group of companies contribute around 4% to India's gross domestic product (GDP) and 2.5% to the nation's tax collection.
Ratan Tata has acquired world-famous brands such as Jaguar, Corus, Land Rover, Tetley, and others under the Tata group.
___________________________________________________________________________
How Much is Ratan Tata Worth?
Ratan Tata's net worth is around $1 billion. He is not listed among the world's wealthiest people because various foundations and charitable trusts hold most of his earnings (65%). If we take those shares into account, Ratan Tata's net worth and wealth could very well be more than $75 billion (approximately). He owns just 1% of the shares in the Tata Group.
___________________________________________________________________________
Ratan Tata Net Worth: How He Created It?
Ratan Tata's great grandfather Jamshedji Tata founded the Tata group in 1868. Ratan Tata became the chairman of this group of companies in 1991 and took the group to unprecedented heights. During his chairmanship, the Tata group's revenues increased 40 times, and the profits grew more than 50 times.
Tata group is one of India's most significant enterprise groups, with more than 100 subsidiary companies listed under it. These companies provide a wide range of products and services to the world. Tata group of companies have their operations in Automotive, Chemicals, FMCG, Finance, IT services, Real Estate, Hotels, Defence, Telecom, and many other major fields.
Some of the most prominent and top Tata group companies are Tata Motors, Tata Steels, Tata Chemicals, Tata Consultancy Services, Tata Power, Tata Communications, Tata Consumer Products, Taj Hotels, and Voltas, among others.
Ratan Tata has acquired various foreign companies during his tenure as the chairperson. Tetley under Tata Tea, Jaguar Land Rover under Tata Motors, and Corus under Tata Steel were some of the most significant acquisitions credited to Ratan Tata's vision. He gave a global presence to the business, which was previously India-centric.
In 2018-19, the combined annual revenue of the Tata Group of companies was $113 billion. The 29 publicly-listed companies' gross market capitalisation was $160 billion in 2019.
___________________________________________________________________________
Ratan Tata Facts
Full Name
Ratan Naval Tata
Net Worth
$1 billion
Date Of Birth
December 28, 1937
Place Of Birth
Businessman, Philanthropist, Investor, Industrialist
Profession
Chairman of the Tata Group and Tata Sons (1st term- 1991 to 2012; 2nd term- 2016 to 2017)
Education
B.S. in Structural Engineering and Architecture from Cornell University College of Architecture, New York

Advanced Management Program from Harvard Business School, Boston

Nationality
Indian
Spouse
None
Parents
Naval Tata, Sooni Tata
Siblings
Noel Tata
Nicknames
None
Awards
Padma Bhushan – Third highest civilian honor in India – 2000

Padma Vibhushan – Second highest civilian honor in Indian – 2008

Commander of the Legion of Honour – Government of France – 2016

Honorary Knight Grand Cross of the Most Excellent Order of the British Empire – 2014

Grand Cordon of the Order of the Rising Sun – Japanese Government – 2012

Honorary Doctor of Law – Cambridge University – 2010

Grand Officer of the Order of Merit of the Italian Republic – 2009

Honorary Citizen Award – Government of Singapore – 2008

Honorary Fellowship by The London School of Economics and Political Science

Legend in Leadership Award by Yale University

The Asian Awards for Business Leader of the Year 2010

Achievements
Merged Land Rover Jaguar with Tata Motors

Merged Tetley with Tata Tea

Merged Corus with Tata Steel

Visualized and made Tata Nano a reality – The most affordable car in the world

First Indian to fly F-16 Falcon

Grew the revenues of Tata Groups by 40 times under his leadership

Philanthropy
Tata Trusts funded $28 Million for Scholarship to The Cornell University

Tata Group donated $50 Million to Harvard Business School

Tata Consultancy Services donated $35 Million to Carnegie Mellon University

Tata Group gave $13 Million to the Indian Institute of Technology, Bombay

Tata Trusts announced $67 Million for the fight against Covid-19

More than 60% of Ratan Tata's company profits go to several charitable causes
___________________________________________________________________________
Ratan Tata Social Media Profiles
___________________________________________________________________________
Ratan Tata Biography
Ratan Tata was born on 28th December 1937 in one of India's wealthiest families – the Tata family. The founder of Tata Group, Jamshedji Tata, was his grandfather, and he was raised in the luxurious Tata Palace of Mumbai. It is said that during his school days, he was driven to the school in a Rolls-Royce. He went to the US to study architecture and structural engineering at Cornell University. He also completed a management course from the reputed Harvard University.
Ratan Tata joined the Tata Group in 1962 as an employee of Tata Steels. He made his own path through his hard work and dedication to the Tata Group's chairman position in 1991. Tata Indica was the first truly Indian car that he brought into the automotive market in 1998. He promised to produce the world's cheapest car that made Tata Nano possible in 2008.
With his revolutionaries business management and visionary ideas, Ratan Tata helped the Tata Group of companies grow their revenues by 40 times and profits by 50 times during his tenure. Not only he created countless jobs, but he also made his mark in the international markets. Ratan Tata successfully acquired foreign companies like Jaguar, Land Rover, Tetley, and others. Tata Group acquired Dutch steel giant Corus within Tata Steel in 2007, and the acquisition cost them $11.3 billion. Tata Motors acquired Jaguar and Land Rover from the elite British automotive company Ford Motor Company in 2008 – for $2.3 billion.
Ratan Tata has always had this special affection towards stray dogs. The ancestral headquarters of Tata Sons, The Bombay House, traditionally provide shelter to stray dogs when it rains. Ratan Tata has made a kennel for stray dogs in the Bombay House, where he provides food, water, and playgrounds. He also has two pets Tito and Maximus, with whom he loves to play during his free time.
Ratan Tata is a car lover. He has a fantastic collection of top-tier cars, including Ferrari California, Land Rover Freelander, Mercedes Benz S-Class, Benz 500 SL, Maserati Quattroporte, and many others. He also loves to fly planes. In fact, he was the first Indian ever to fly an F-16 Falcon in 2007.
In 2006, Ratan Tata announced his dream project for the Indian middle-class working population: Tata Nano. He wanted to manufacture an economical car that any lower-middle-class person could buy just for $2000. For that, he started building his manufacturing units in West Bengal. However, the local farmers started protesting as they claimed that their lands were being taken forcibly by the government for the factory installations. Ratan Tata then shifted his units to Gujrat in 2008 and started manufacturing the world's cheapest cars.
Ratan Tata's name also got involved in a massive controversy in 2010. 'Nira Radia Tapes' was an enormous controversy that involved the leaks for telephonic conversations of a lobbyist Nira Radia and several businessmen, politicians, journalists, and industrialists. In one of the leaked phone recordings, it was claimed that Nira Radia was talking to Ratan Tata regarding manipulating Indian polity. However, Ratan Tata came out of that controversy without even a scratch.
In 2016, the Tata Group board of directors voted for the removal of Cyrus Mistry from the position of their chairman. Ratan Tata returned to the Tata Group and was made the interim chairperson by the board. In a dramatic turn of events, Cyrus Mistry was also removed from the director's position of Tata Sons in 2017. The NCLAT heard the appeal of Cyrus Mistry, and in 2019, it said that the removal was illegal, and he should be re-instated. Now the case is in the Supreme court of India, and Natarajan Chandrasekaran is the current chairman of Tata Sons.
Ratan Tata is also famous and lauded for his philanthropy and charity works. He has donated millions of dollars for the welfare of society. His new worth, in reality, is much more than $1 billion. However, he donates most of his wealth to charities working for education, health, and other welfares. He just owns less than 1% of the Tata Group, which shows his humility and commitment to humanity's betterment. Because of his magnanimous philanthropical works, Ratan Tata's personal net worth never exceeds $1 billion.