Ben Shapiro Net Worth
$20 Million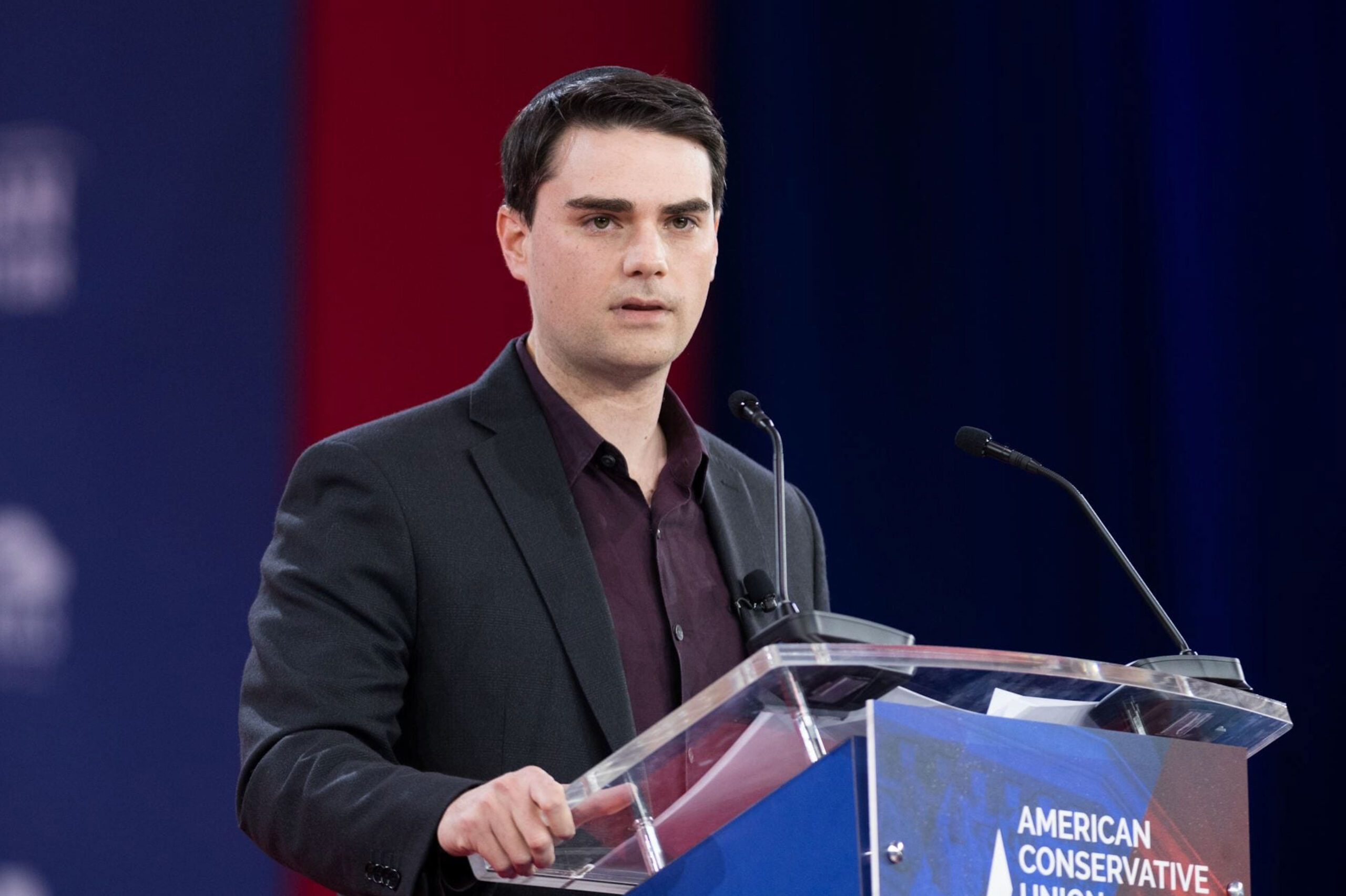 Ben Shapiro has a net worth & wealth thought to be over $20 million
Ben Shapiro is an American political commentator, columnist, author, radio host, and public speaker.
He is the author of ten successful books on American conservatism
Shapiro was formerly the editor of Breitbart News, working alongside Steve Bannon
He lives in a $1 million home in Los Angeles with his wife
Shapiro produces a daily political podcast via his site, The Daily Wire
Ben Shapiro is a trained lawyer with a first class degree from Harvard Law
Ben Shapiro is widely regarded as one of the sharpest speakers on the American right, earning him millions of fans on social media.
___________________________________________________________________________
How Much is Ben Shapiro's Net Worth?
Ben Shapiro is a highly successful political commentator, lawyer, author, radio host, and columnist. Ben Shapiro has risen to fame on the back of a phenomenal personal drive, resulting in a net worth in 2020 of $20 million.
___________________________________________________________________________
Ben Shapiro's Net Worth: How Was It Made?
Ben Shapiro is a man of many talents. A conservative political commentator and columnist, an author, a trained lawyer, a radio host and social media firebrand, he has rocketed to fame and fortune in recent years as a bold new voice in America. This rise to riches has led to Ben Shapiro's net worth exceeding the $20 million mark, and we can expect Ben Shapiro's net worth to continue growing in the very near future.
Shapiro earned much of his initial net worth as the founder of The Daily Wire. Reaching an audience of millions, The Daily Wire helped him build a multi-platform social media empire, via which is able to attract new fans, promote his books and other works, and extend his influence. As both founder and editor-in-chief of The Daily Wire, Shapiro is able to utilise the power of social media to reach new heights of fame and gain revenue from his online presence. By November 2018, Ben's social media reach featured 4.5 million fans on Facebook, 1.7 million followers on Twitter, and a growing Instagram presence, too. The following year those numbers had risen by over 30%, and as of 2020, Shapiro's social media figures are enormous: 3.4 million followers on Twitter, 2.3 million YouTube subscriptions, 6 million Facebook fans, and 2.2 million followers on Instagram.
Due to the fact that his Facebook posts consistently top the charts of the most shared posts on the social network, Ben Shapiro's The Daily Wire has become one of the most popular news media outlets on Facebook. Indeed, it comes just shy of the New York Times and Washington Post in terms of audience engagement. Based upon the web traffic statistics available for public view, analysts have estimated that Ben Shapiro's social media empire alone brings in over half a million dollars per month in revenue.
Of course, social media and The Daily Wire isn't the be-all-and-end-all of what Ben Shapiro does, or how he makes his net worth. He authored the bestselling book Brainwashed: How Universities Indoctrinate America's Youth, which was published in 2004 and became a catalyst for a number of right-wing think tanks and similarly conservative discussions. Shapiro claims to have begun writing the book when he was only seventeen years of age, around the same time he became the youngest nationally syndicated columnist in the USA.
His prodigious talents and unstoppable drive have seen Ben Shapiro's net worth rise sharply in recent years, although his star has been on the ascendent for quite some time. Prior to founding The Daily Wire, Ben Shapiro founded and served as the editor-in-chief of TruthRevold, a watchdog group with a dedicated right-wing following. He has also authored an impressive array of books, including titles such as Primetime Propaganda: The True Hollywood Story of How the Left Took Over Your TV, The People vs. Barack Obama: The Criminal Case Against the Obama Administration, and Bullies: How the Left's Culture of Fear and Intimidation Silences America.
___________________________________________________________________________
Ben Shapiro Facts
| | |
| --- | --- |
| Full Name | Benjamin Aaron Shapiro |
| Net Worth | $20 Million |
| Date Of Birth | January 15th, 1984 |
| Place Of Birth | Los Angeles, California |
| Profession | Author, Columnist, Lawyer, Radio Host |
| Education | Harvard Law School |
| Nationality | American |
___________________________________________________________________________
Virat Kohli Social Media Profiles
___________________________________________________________________________
Ben Shapiro Biography
Benjamin Aaron Shapiro was born on January 15th, 1984, and is an American political commentator, author, lawyer, radio host, and lauded public speaker. At the age of 17, he became the youngest nationally syndicated columnist in the country, and continues to write hugely popular columns to this day for Newsweek, the Creators Syndicate, and his own news media outlet, The Daily Wire. Ben also espouses his strongly conservative and right-wing opinions on The Ben Shapiro Show, a political podcast which goes out daily, and regularly reaches an audience in the hundreds of thousands. To date, Shapiro has written ten books, all of which are centred on right-wing and conservative political views.
Ben Shapiro was born into a Jewish family in Los Angeles, and both of his parents worked in Hollywood; his mother was a TV executive, and his father was a composer of film scores. A prodigious child, he skipped both third and ninth grade at middle school, and went to Yeshiva University High in Los Angeles, graduating two years early at the age of 16.
Shapiro then went to the University of California, where he graduated with a BA in political science, impressing his tutors and coming at the top of his year group. Driven by a fascination into the American legal system and by an increasing desire to become a political figure, Shapiro went on to graduate cum laude from Harvard Law in 2007. This formal training in law allowed him to open his first business, an independent legal consultancy named Ben Shapiro Legal Consulting.
Despite his educational prowess in law, and in spite of the young age at which he opened his legal consultancy, Ben Shapiro was clearly destined for great things in the sphere of right-wing politics. Indeed, he began writing his first book on the subject at the age of seventeen; the same age at which he became the record holder for youngest columnist with a national syndication in the USA. His fervent and often eyebrow-raising opinions on the current state of America and the wider world, and his engaging and often humorous way of putting them across to his audience, quickly won him a considerable number of fans. By the age of 21, Ben Shapiro had been twice published, having completed two books on conservative political subjects. Within the next two years, he'd written a further pair of books which had been published by HarperCollins, both of which became bestsellers in the political genre.
Following the success of his first four books, Ben Shapiro was hired by Breitbart News in 2012. Perhaps best known for its association with former Trump employee, Steve Bannon, Breitbart was perfectly aligned with Ben Shapiro's firebrand ideas, and the ideal match for his writing style and ability to engage his audience. Shapiro rapidly rose through the ranks to become the Editor-at-Large of Breitbart News, a position from which he could map out his future success and begin wielding greater influence over the political landscape.
Of course, it was only a matter of time before the ambitious and fiercely independent Ben Shapiro outgrew the confines of Breitbart News, and felt the need to go it alone. In 2015, The Daily Wire was launched for the first time, with Ben Shapiro as both founder and Editor-in-Chief. From his place at the helm of a news media outlet, Shapiro was able to begin focusing on expanding his social media empire. This allowed him to not only reach new global audiences with his Daily Wire news pieces, columns, and radio podcasts, but also to generate new forms of income.
Since he resigned from Breitbart in 2016, Shapiro's net worth has been steadily increasing on the back of book sales, advertising revenue, and social media traffic. Indeed, he has – as of 2020 – written and published ten books, all of which deal with conservative political opinion and notions of American patriotism, and all of which have performed very well as regards sales and reviews.
Ben Shapiro has also become a highly sought-after conservative public speaker and talking head, and is frequently appearing on news channels, think pieces, and network radio. Despite often flirting with controversy, Shapiro's quick wit, sharp observations, and ability to turn a phrase while maintaining a convincing argument have seen him become a major figure on the political right. With plenty more books, columns, and ideas in the pipeline, and a growing hunger for his voice on the political scene, there's no knowing just how much further Ben Shapiro will rise. One thing is for sure, however. Ben Shapiro's ascent is far from over, and we can expect to see truly impressive things from this talented and outspoken young man in the years to come.