Dave Chappelle Net Worth
$50 Million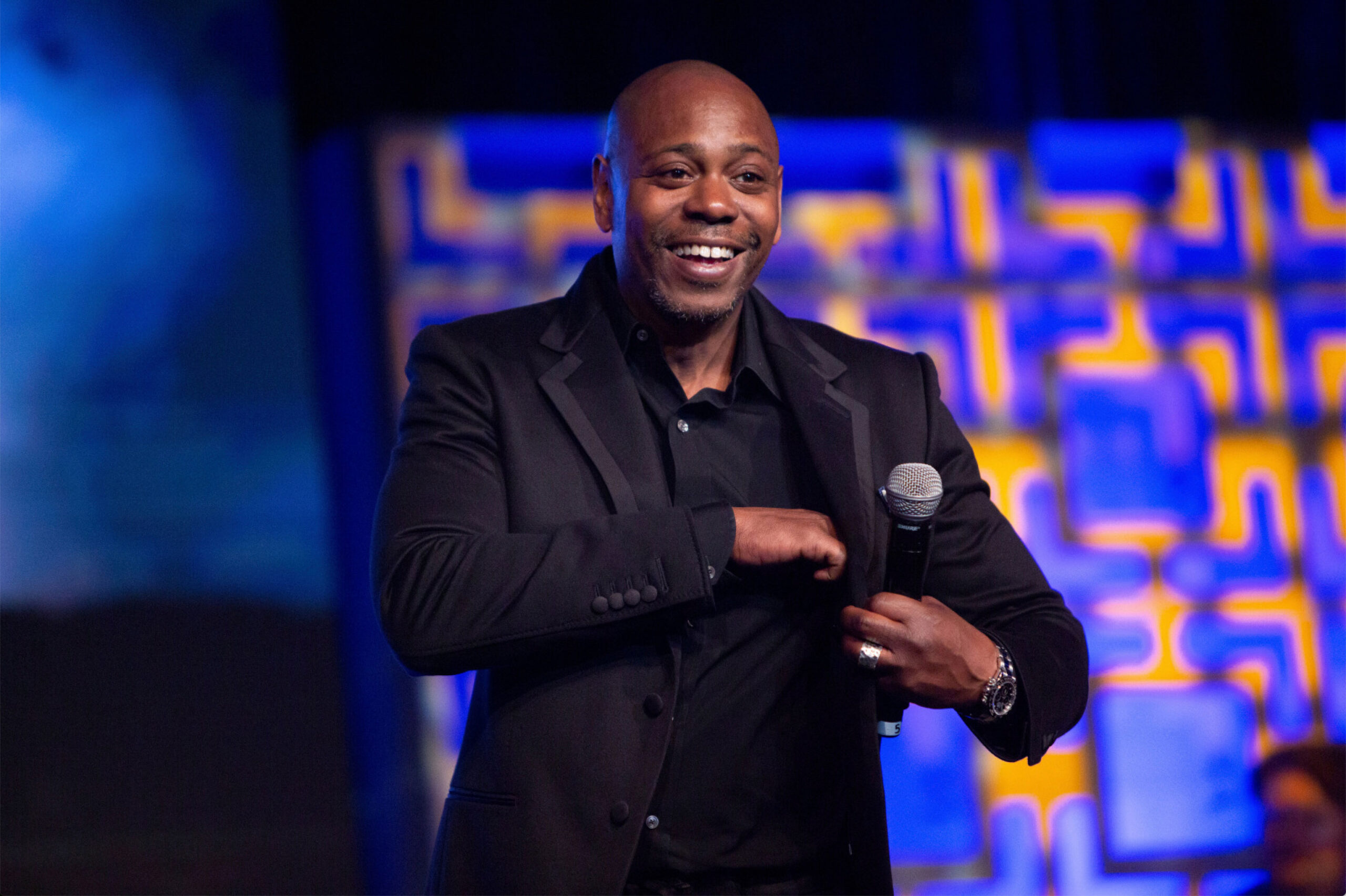 Dave Chappelle has a net worth & wealth reported to be over $50 million.
A screenwriter, comedian, actor, and entertainer, he rose to fame on HBO comedy shows in the early 90s.
His film debut came in 1992 in Mel Brooks' Robin Hood: Men in Tights
His early career saw him become a regular on the Howard Stern show and The Late Show with David Letterman.
Chappelle's Show, his Comedy Central series, was launched in 2003 to critical and popular acclaim.
In June 2014, Chappelle made a major comeback on the comedy circuit by performing for 10 nights at Radio City Music Hall.
2016 saw him sign a major deal with Netflix for two comedy specials, which was followed by a starring role in A Star Is Born.
Dave Chappelle has been awarded a Grammy for his performances, which he donated to his former high school.
___________________________________________________________________________
How Much is Dave Chappelle's Net Worth?
Dave Chappelle is an American comedian, writer, actor, and entertainer, whose career has spanned three decades. His current net worth is said to be around $50 million, much of which was the result of a major deal with the Netflix video streaming service in 2016.
___________________________________________________________________________
Dave Chappelle Net Worth: How Was It Made?
Dave Chappelle's net worth has come about through three decades of dedication, hard work, and consistent appearance on the US and international comedy circuit. His career took off quickly in the early 90s, when he was a regular guest on several high profile television network shows, and where he was able to garner a wide crossover audience.
His transition from television to film came about relatively early in his career, which was boosted by appearances in comedy blockbusters, most notably Robin Hood: Men in Tights. However, it was in 2016 that Dave Chappelle's net worth was given a major boost, following several years of comedy circuit appearances and what was rumoured at the time to be a semi-retirement from public life. Dave signed a major deal with Netflix in 2016 to deliver a trio of standup specials, recorded exclusively for the streaming service. While the exact figures aren't known, it has been reported that Chappelle was paid $60 million for the three specials, making it the largest deal ever paid to a standup comedian in any medium. With his comeback underway, Chappelle was in high demand, and is said to have earned $47 million between the summer of 2016 and June 2017. This trajectory continued for the following year, and between 2017 and 2018, his earnings were over $35 million. Streaming is a pretty big service nowadays, so it is no wonder that Chappelle is in demand and has made his impact on this streaming platform. Some people who are not able to access content like this due to restrictions with their streaming service may look to areas such as the best vpn for streaming so they can access the programs they want to see without having to look elsewhere.
Dave Chappelle's major comeback, and the fame and net worth it provided, shows no sign of abating or slowing anytime soon. Chappelle has continued to reap the benefits of his long and – on occasion – hard-fought-for comedy career. 2018 brought with it a Grammy award for Best Comedy Album, presented to Dave Chappelle for The Age of Spin and Deep in the Heart of Texas; the first two of the three Netflix specials. The third and final Netflix special, Equanimity, was awarded the Emmy for Outstanding Variety Special. Chappelle's third Grammy to date was won in 2020, for Sticks & Stones, and his Hollywood movie career has since been on the incline.
With such a powerful upward trajectory over the past couple of years, and thanks to the huge popularity of the Netflix specials and Chappelle's appearance in Oscar-winning movies (such as A Star is Born) it seems highly likely that his career will continue to grow from strength to strength. As such, Dave Chappelle's net worth is likely to increase in 2021 and beyond, as a result of a new generation of comedy fans drawn to his acerbic wit, infectious energy, and hilarious observations.
___________________________________________________________________________
Dave Chappelle Facts
| | |
| --- | --- |
| Full Name | David Khari Webber Chappelle |
| Net Worth | $50 Million |
| Date Of Birth | August 24th, 1973 |
| Place Of Birth | Washington DC, USA |
| Profession | Comedian, Actor, Screenwriter |
| Education | Duke Ellington School of Arts |
| Nationality | American |
| Spouse | Elaine Chappelle |
| Awards | Mark Twain Prize for American Humour 2019, Primetime Creative Arts Emmy 2018 and 2020, Grammy Award for Best Comedy Album 2018, 2019, 2020, |
___________________________________________________________________________
Dave Chappelle Social Media Profiles
___________________________________________________________________________
Dave Chappelle Biography
David Khari Webber Chappelle was born on 24th of August, 1973 in Washington DC, USA. Both of his parents, Yvonne Chappelle Seon and William David Chappelle III were college professors, and were keen to instil the value of education and wit in their son. Indeed, Dave Chappelle comes from a long academic history, as his great-grandfather, Bishop D. Chappelle was the president of Allen University.
While Dave Chappelle was born in Washington DC, he was raised in Maryland in the town of Silver Spring. His early years were characterised by a love of comedy, and the young Dave was often spent memorising routines and monologues by his comedy heroes, Eddie Murphy and Richard Pryor. He'd enthusiastically perform for family and friends, and it was often noted that he would likely grow up to become a professional comedian, as he was clearly gifted with a remarkable sense of humour, quick wit, and powerful stage presence. Chappelle's parents divorced when he was young, and he was primarily raised by his mother in Maryland, and would spend his summer holidays with his father in Ohio. He was granted entry to the esteemed Duke Ellington School of Art, where he studied theatre, and honed his stagecraft.
Once he'd graduated from high school, Chappelle decided his best course of action was to pursue his childhood dream of becoming a comedian. He moved to New York, and began practising routines at amateur nights and open mic sessions. Chappelle has often talked of early gigs at the Apollo Theater, where he remembers being booed off stage during one of his very first performances, and how this merely spurred him on to become a better, thicker-skinned comedian. Despite a difficult start, he soon became a regular on the New York comedy circuit, and wound up appearing on Def Comedy Jam – a pioneering HBO show highlighting new talent – in 1992, where he was able to reach a wider audience. This was a key moment in his career, as it led to him becoming a regular feature on late-night network shows including Conan O'Brien, Howard Stern, and David Letterman. Chappelle has remarked that the highlight, however, of this period in his career was opening for Aretha Franklin.
Chappelle's big screen debut came about at the young age of twenty, when he appeared in Mel Brooks' 1993 spoof movie, Robin Hood: Men in Tights. This led to a slew of appearances in other movies, including a minor role alongside his childhood hero in Eddie Murphy's The Nutty Professor in 1996. Chappelle co-wrote and starred in Half Baked in 1998, and attempted to launch a series of television pilots at the end of the millennium, with none of them being picked up. However, this was all to turn around in 2003, when Chappelle's Show was released on Comedy Central. Hugely popular and a significant coup for the network, Chappelle's Show ran for two successful seasons, and picked up a pair of Emmy Awards during its run. During production for the third season, Chappelle suddenly quit the series, citing the fact that he was overworked and he was unhappy with the direction the show was taking. Despite leaving, Comedy Central aired the episodes created in his absence. This was the first time, although not the last, that Chappelle would walk away from a major deal – the Comedy Central contract for the third series of Chappelle's Show was said to be worth $50 million.
After meeting with esteemed director Michel Gondry, Chappelle's Block Party was filmed. This documentary followed Chappelle hosting a rap concert in Brooklyn, and saw him interacting and interviewing a number of high-profile hip hop artists. This was Dave Chappelle's last major outing for the next ten years, during which time he continued on the comedy circuit, and occasionally made appearances on network shows. He claims that his focus at the time was on his wife Elaine, whom he married in 2001, and on raising his three children in Ohio.
Dave Chappelle's comeback occurred in 2014, when he returned to the New York City comedy scene for the first time in 11 years as a headlining comedian. He was booked for ten nights at Radio City Music Hall, all of which sold favourably and signalled a public interest in his resurgent career. In 2016, Chappelle fulfilled another lifelong ambition; to host Saturday Night Live. This came about the weekend after the election of Donald Trump as US president, and his opening monologue left viewers with no doubt whatsoever regarding his opinion on the new leader. Chappelle's Saturday Night Live performance instantly won him a new generation of fans, and he received an Emmy Award for his appearance as a result, which he donated to his former high school.
Dave returned to the world of movies in a high-profile appearance alongside Bradley Cooper and Lady Gaga, in the Oscar-winning remake of A Star is Born. Riding high on a wave of public appreciation, Chappelle joined forces with Jon Stewart for a hugely profitable comedy tour in 2018, followed by 2019's appearances alongside Aziz Ansari in Austin, Texas.