Monica Lewinsky Net Worth
$1.5 Million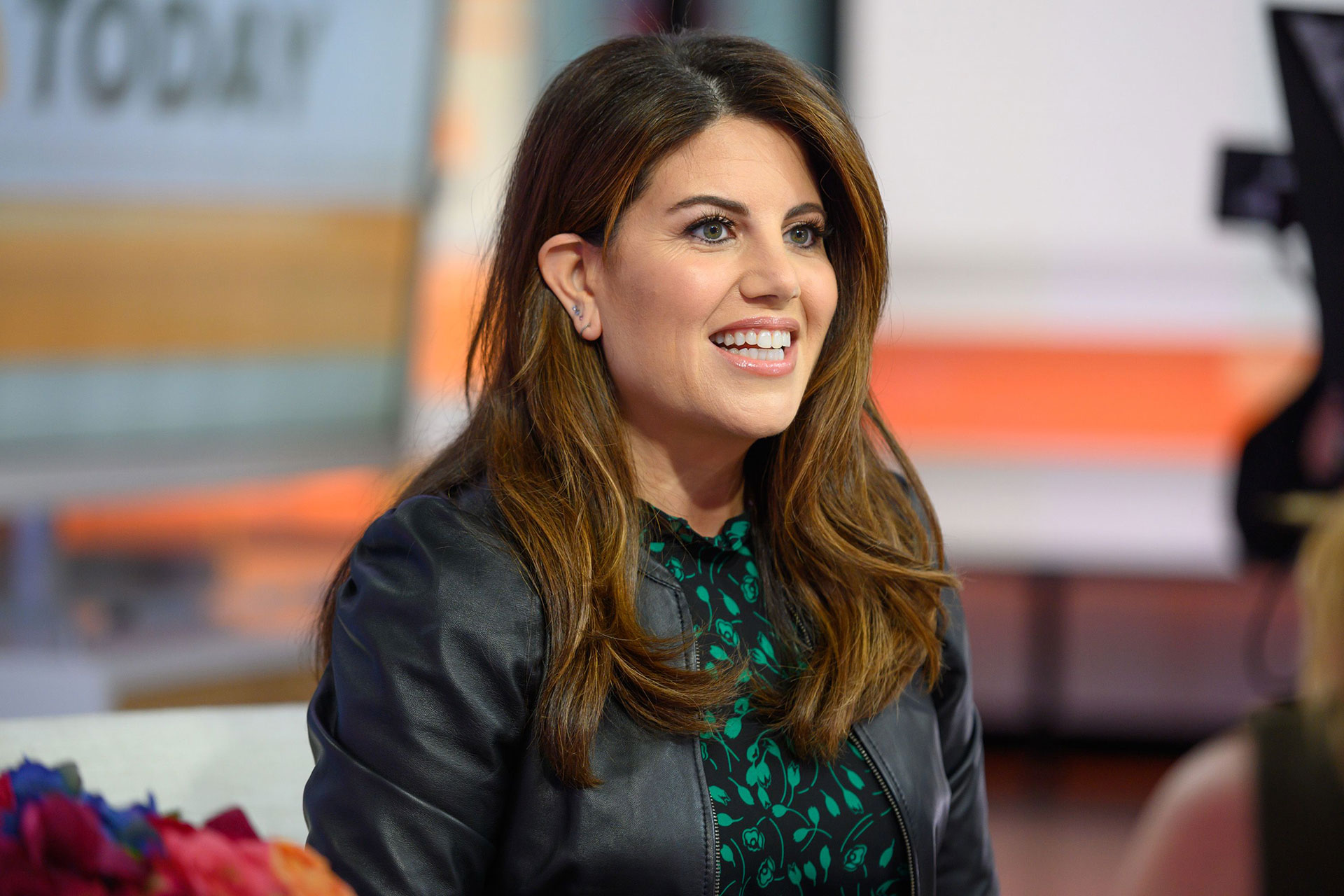 Monica Lewinsky has a net worth of $1.5 million
Monica Lewinsky is an American columnist, author, activist, and public speaker.
She is the co-author of the autobiography "Monica's Story"
She first rose to fame in the mid-90s as the result of the Clinton sex scandal
She has a master's degree in social psychology from London School of Economics
Lewinsky has written extensively about her experiences, most notably for Vanity Fair
She once launched her own line of luxury handbags
Monica Lewinsky has become famous in the 21st century as a result of her activism in the #MeToo movement.
___________________________________________________________________________
How Much is Monica Lewinsky's Net Worth?
Monica Lewinsky is an American activist, author, and popular public speaker. Monica Lewinksy's net worth & wealth is thought to be in the region of $1.5 million, following a renewed successful career in the last decade. Lewinsky first came to the public attention in the mid 1990s, following a notorious affair with President Bill Clinton, while she worked as a White House intern.
___________________________________________________________________________
Monica Lewinsky's Net Worth: How Was It Made?
Monica Lewinsky's net worth has most come about across the past decade, following years of keeping a low profile. This shouldn't come as much of a surprise to anyone, as Monica Lewinsky was perhaps – for a brief moment – one of the most famous women in the world in the mid 1990s, following her explosive affair with President Bill Clinton; an affair which led to one of the biggest political sex scandals of the modern age. The scandal led to the impeachment of President Clinton, and rocketed Lewinsky into unwitting international stardom. Many claim, including Lewinsky herself, that Lewinsky was the first person to have their reputation destroyed by the internet – something which has inspired much of her recent work.
Today, Lewinsky has made her name as an author, an in-demand public speaker, and a strident activist for womens' rights and anti-bullying causes. She has been heavily involved in the anti-cyberbullying movement as well as #MeToo, and her activist work has seen her tour the world to give speeches, sign books, and appear on high-profile discussion panels.
In 1999, Monica Lewinsky teamed up with esteemed author Andrew Morton to write and publish "Monica's Story", a tell-all memoir covering her side of the scandal. The book advance made headlines, and was reportedly set at $500,000. Monica has also dipped into the world of fashion, and designed her own line of ladies handbags. She was employed as a spokesperson for Jenny Craig, which boosted her net worth further, and started a television career at the beginning of the 21st century which would have also boosted her income considerably.
2003 saw Monica Lewinsky host the Fox dating show, "Mr Personality" which thrust her back into the limelight on network television. However, this was not her first time appearing back on the airwaves after a couple of years of relative obscurity. In 2002, Lewinksy appeared on "Monica in Black and White", an HBO show created in order for her to tell her side of the world-renowned scandal, and to invite questions from a studio audience. This initiated a relatively long run of chat show appearances, which included The View, Jimmy Kimmel Live!, and V Graham Norton in the UK. Monica Lewinsky relocated to London in 2005 to once again disappear from the limelight, only to re-emerge professionally once more in 2014, when she began writing columns for Vanity Fair.
In 2014 she also appeared on a National Geographic special detailing many of the ups and downs of the 1990s, and was a prominent figure in Forbes Magazine's cyberbullying issue. This became something of a passion project for Monica Lewinsky, who gave a TED talk on cyberbullying in 2015, and also became an ambassador for Bystander Revolution, an organisation dedicated to tackling cyberbullying.
Her net worth has also been boosted by a growing literary career and as a producer, working on the third season of American Crime Story, which is set to detail the Clinton and Lewinsky scandal, and will be released at some point in 2021.
___________________________________________________________________________
Monica Lewinsky Facts
| | |
| --- | --- |
| Full Name | Monica Samille Lewinsky |
| Net Worth | $1.5 million |
| Date Of Birth | July 23rd, 1973 |
| Place Of Birth | San Francisco, California |
| Profession | Author, Public Speaker, Columnist and Activist |
| Education | London School of Economics |
| Nationality | American |
___________________________________________________________________________
Monica Lewinsky Social Media Presence
___________________________________________________________________________
Monica Lewinsky Biography
Monica Samille Lewinksy was born on July 23rd, 1973 in San Francisco, California. She grew up in the affluent neighbourhoods of Beverly Hills and Brentwood in Southern California, the daughter of oncologist Bernard Lewinsky, and author Marcia Kaye Vilensky. Monica Lewinsky's parents divorced in 1988.
Monica Lewinsky was raised in the Jewish faith, and attended the Sinai Akiba Academy followed by the John Thomas Dye School as she was growing up. She undertook her high school education at Bel Air Prep (which later became Pacific Hills School), and graduated in 1991. This was followed by further education at Santa Monica College, where she showed great potential academically, and a part-time job at the drama department of Beverly Hills High School. It was around this time that she began a love affair with her married high school theater teacher, a man by the name of Andy Bleiler. Lewinsky had a keen interest in psychology and psychotherapy, and enrolled at Lewis and Clark College following her graduation from a two-year degree. Her psychology degree was completed in 1995, and after graduation, Monica Lewinsky was keen to find a place as an intern to further her work experience.
A family friend managed to secure Monica Lewinsky an internship at the White House, where she would be assisting in the office of Leon Panetta, the chief of staff under the Clinton administration. Once her internship was complete, she was offered a fully paid position working in the office of Legislative Affairs in the White House – a position she duly accepted. It was during this time that the details of her affair came to light, and the scandal of the decade unravelled in often surprising and spectacular fashion.
In her testimony regarding the affair, Monica Lewinsky detailed the facts surrounding her connection with President Clinton. She explained that she was involved in a sexual relationship with the American president between the winter of 1995 until the spring of 1997. According to Lewinsky, the affair involved nine individual meetings, some of which took place in the Oval Office. In 1997, Monica Lewinsky was transferred professionally to the Pentagon, which was where she confided in Linda Tripp, a senior colleague, about her affair with Bill Clinton. Tripp started secretly recording the conversations she was having with Monica Lewinsky, in order to detail the nature of the relationship.
Bill Clinton was already struggling with the burden of a history of sexual allegations and misconduct rumours. In 1997, attorneys working on Arkansas State employee Paula Jones' civil lawsuit picked up rumours regarding Monica Lewinsky's relationship with Clinton. Monica Lewinsky denied the affair categorically via a false affidavit, which prompted Tripp to submit her tapes detailing her conversations with Lewinsky to Kenneth Starr of the Independent Counsel. Clinton was called in to speak under oath, and he famously denied the affair ever took place.
In January 1998, news of the Clinton-Lewinsky affair broke, creating a media storm around the young intern. Monica Lewinsky was forced to spend weeks hiding from the press and members of the public (later reporting that she spent the vast majority of her time in hiding learning how to knit). Kenneth Starr obtained the most memorable piece of evidence in the scandal; a blue dress which was stained with Clinton's semen. This discovery prompted Bill Clinton to admit that he had been entangled in an inappropriate sexual relationship with Lewinsky.
Monica Lewinsky's affair with the American president made her an overnight sensation, albeit an unwilling one. Her early television appearances, such as an interview she undertook with Barbara Walters in which she famously apologised to the Clinton family, led to record-breaking ratings for the show. High profile appearances such as this prompted a book deal, reportedly with an advance of half a million dollars, which led to Monica's Story, a biography co-written with Andrew Morton that was released in 1999.
Lewinsky struggled to stick to any particular career path following the scandal, and worked in a number of different fields across the next few years. She designed a line of luxury handbags, was involved in the Jenny Craig diet program, and worked for a while as a television host and correspondent. Her next high-profile appearance didn't arise until 2002, when she answered audience questions and detailed her life in Monica in Black and White, another ratings hit for HBO.
In 2005, Monica Lewinsky relocated to London, England, purportedly to escape the limelight and to focus on her educational development. She enrolled in the esteemed London School of Economics, where she graduated with a Master's in Social Psychology the following year. Lewinsky stayed out of the limelight for the next decade or so, until some of her personal effects and clothing (including a black negligee, and a letter from Bill Clinton) were auctioned in 2013.
2018 saw something of a personal and professional renaissance for Monica Lewinsky. After the #MeToo movement had encouraged and emboldened women and girls to make their voices heard regarding sexual misconduct and harassment, Lewinsky wrote a moving think piece for Vanity Fair, the first in a series of essays detailing her experiences with abuses of power.