Mukesh Ambani Net Worth
$88 Billion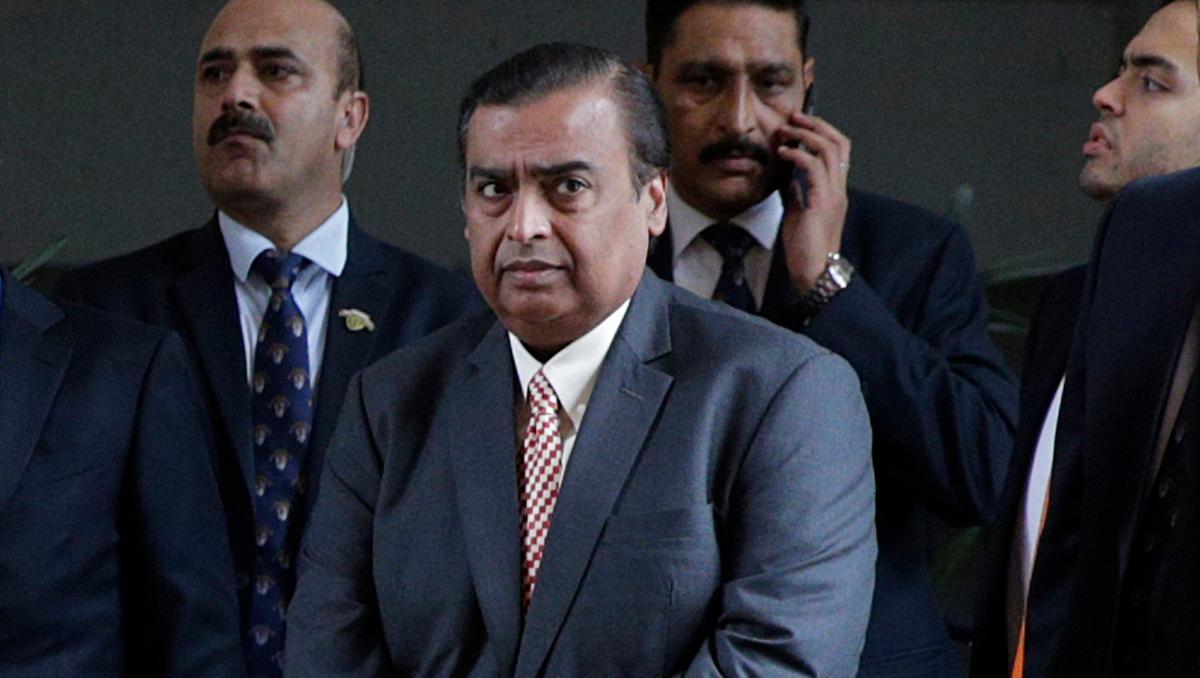 Mukesh Ambani, India's richest and the world's 5th richest person, has a net worth of $88 billion.
Mukesh Ambani is the chairman, managing director, and the largest shareholder of India's most valuable company: Reliance Industries Ltd.
Reliance Industries Ltd. is the first company in India with a market capitalization of more than $200 billion.
According to Reuters, Mukesh Ambani gets $32,000 richer every minute.
Mukesh Ambani lives in a 27-storey skyscraper, Antilia, with a $1 billion built cost and a current $2.5 billion value. It is the most costly private residence in the world.
Antilia houses 600 members of his staff who are there to serve Mukesh Ambani and his family. Six floors are designed to be the garages for Mukesh Ambani's collection of luxurious cars. The house has nine elevators. Antilia has a private movie theatre, several swimming pools, a dance studio, a yoga center, and three helipads.
Mukesh Ambani flies in his private Boeing jet, which is worth $75 million. The insides have been custom-built for the billionaire's office, private rooms, and his staff's accommodation.
Ambani is friends with personalities such as Hillary Clinton and Sundar Pichai – they even came to India for Mukesh's children's wedding ceremonies.
Reliance is one of India's most profitable conglomerates and has its businesses spread over energy, telecommunication, retail, petrochemicals, and other sectors.
___________________________________________________________________________
How Much is Mukesh Ambani's Net Worth?
Mukesh Ambani is Asia's richest person who has a net worth of $88 billion. He is the chairman and the managing director of India's biggest and most valuable conglomerate – Reliance Industries Ltd. He also has the majority of shares (47%) in Reliance.
Mukesh Ambani is the world's 5th richest person in 2020, as per Forbes. His wealth is more than the GDP of 10 countries. Mukesh Ambani's net worth is more than India's four next billionaires' wealth combined.
Mukesh Ambani's company Reliance Industries Ltd. has a market capitalization worth of $200 billion – only Indian company to surpass the 200 mark. He resides in Antilia (Mumbai), the most costly private residence in the world – worth $2.5 billion.
Mukesh Ambani's wealth includes his one-of-a-kind car collection. He has a Bentley Flying Spur, Rolls Royce Phantom, Maybach 62, Mercedes Benz, and many other super expensive and luxurious cars. He also owns a bullet-proof BMW 760Li, in which he usually gets driven by his drivers and accompanied by bodyguards.
Mukesh Ambani is the co-owner of India's most expensive IPL team, the Mumbai Indians. Nita Ambani, Mukesh's wife is the other co-owner of the team. The team has won 5 Indian Premier League trophies and is one of the league's most dominating teams.
___________________________________________________________________________
Mukesh Ambani Facts
Full Name
Mukesh Dhirubhai Ambani
Net Worth
$88 Billion
Date Of Birth
April 19, 1957
Place Of Birth
Aden, Colony of Aden (Yemen)
Profession
Chairman and Managing Director of Reliance Industries Ltd.
Education
Hill Grange High School, Mumbai

St. Xavier's College, Mumbai

B.E. in Chemical Engineering from Institute of Chemical Technology, Mumbai

MBA from Stanford University, CA (Dropped out)

Nationality
Indian
Spouse
Nita Ambani
Parents
Dhirubhai Ambani, Kokilaben Ambani
Siblings
Anil Ambani, Nina Bhadrashyam Kothari, and Dipti Dattaraj Salgaocar
Nicknames
Muku
Awards
Ernst & Young Entrepreneur of the Year – 2000

Global Vision Award at The Awards Dinner by Asia Society – 2010

Business Leader of the Year by NDTV India – 2010

Businessman of the Year by Financial Chronicle – 2010

School of Engineering and Applied Science Dean's Medal by the University of Pennsylvania – 2010

Millennium Business Leader of the Decade at India Leadership Conclave – 2013

Othmer Gold Medal by Chemical Heritage Foundation – 2016
___________________________________________________________________________
Mukesh Ambani Biography
Mukesh Ambani is Indian's most prominent business tycoon and Asia's wealthiest man. He was born on April 19, 1957, in Yemen. His father, Dhirubhai Ambani, used to work in Yemen. He also has a younger brother Anil Ambani and two sisters Nina Bhadrashyam Kothari and Dipti Dattaraj Salgaocar. Dhirubhai Ambani moved back to India in 1958 along with his family and started a textile trading business.
In 1980, Mukesh Ambani started studying MBA at the prestigious Stanford University but was later called back to India by his father to expand his business of Reliance industries. According to Dhirubhai Ambani, practical life challenges could not be taught in any university. Individuals have to make mistakes and learn from them. In 1981, Mukesh started helping his father run the company he established as Reliance Industries. By then, Reliance Industries was already working in petrochemicals, retails, and telecommunications.
In 1985, Dhirubhai's partner and the executive director of reliance industries, Rasikbhai Meswani, died. One year later, Dhirubhai suffered from a heart attack but survived. However, due to his bad health conditions, he could not work. The entire responsibility of business was shifted to Mukesh Ambani and his brother Anil Ambani. Mukesh Ambani founded Reliance Communications, which was one of the leading telecommunication companies back in the time.
In 2002, Dhirubhai Ambani took his last breaths, and tensions between the brothers started surfacing. In order to stop the family feud, their mother came in between and split the company into two parts. Mukesh got Reliance Industries and Indian Petrochemical Corporation, whereas Anil got Reliance Communications.
In 2010, Mukesh Ambani built the world's largest grassroots petroleum refinery in Jamnagar. Mukesh Ambani was already creating news because of his business sense and investments he made at the right time. He knew what the people wanted, and he always had a solution for them. Reliance Industries Limited is now India's most prominent multinational conglomerate company and one of the Fortune Global 500 companies. Mukesh Ambani is the chairman and managing director of the company. He also holds around 47% shares in the company, which is the largest amount of shares in the company by an individual.
In 2016, Mukesh Ambani changed Indian's 4G arena by introducing Jio Platforms Limited as a subsidiary company under Reliance Industries. The current market capitalization of Jio is $72 billion, which is much more than the capitalization of all other Reliance's subsidiaries. In 2020, Facebook bought 9.99% shares in Jio for $6.1 billion. Google has also invested $4.7 billion in it for 7.7% of the shares. In total, Reliance has earned more than $21 billion by selling 33% of its equity to various investors.
It is fascinating to know that the idea of Jio came to Mukesh Ambani through his daughter Isha Ambani when she complained about slow internet speeds in India. The phenomena of Jio came late in 2016 when Reliance launched India's first LTE operator. Jio offered free outgoing calls over the LTE network and really cheap 4G internet. Today, Jio is India's largest mobile operator and the third largest mobile network in the world. Jio has more than 400 million subscribers as of Nov 2020.
Mukesh Ambani, along with Nita Ambani (his wife), are the owners of Mumbai Indians. It is the most valuable franchise in the Indian Premier League (IPL) and has won 5 seasons. He also lives in a 27-storey big building – Antilia. It is the most expensive private residence in the world that is worth $2.5 billion. The wealth of Mukesh Ambani is more than the GDP of 10 different countries. Even India's next four top billionaires' combined wealth is less than Mukesh Ambani's net worth.
Mukesh Ambani is also expanding his company's exposure to the real estate scene in India. The Reliance Group is taking on massive civil engineering projects in recent times. Reliance is bidding on several Hotel chains, Malls, Residential Buildings, and Flyovers related projects. Real estate will be the next sector that'll be ruled by the Reliance Group after telecommunication and broadband. They already have pretty amazing projects in their portfolio like Reliance Corporate Park in Navi Mumbai, Sir H. N. Reliance Foundation Hospital and Research Centre, and many others.
Mukesh Ambani has featured as Forbes' India's Richest Person continuously for the last ten years. In fact, he is the only Indian person who has made his place in Forbes' list of most influential people on the planet. He is also India's 5th most philanthropical person. Also, he was the first non-American to become the Director of Bank of America. He has been honoured by several international bodies such as Ernst & Young Entrepreneur of the Year (2000), School of Engineering and Applied Science Dean's Medal by the University of Pennsylvania (2010), and many others.