Sachin Tendulkar Net Worth
$150 Million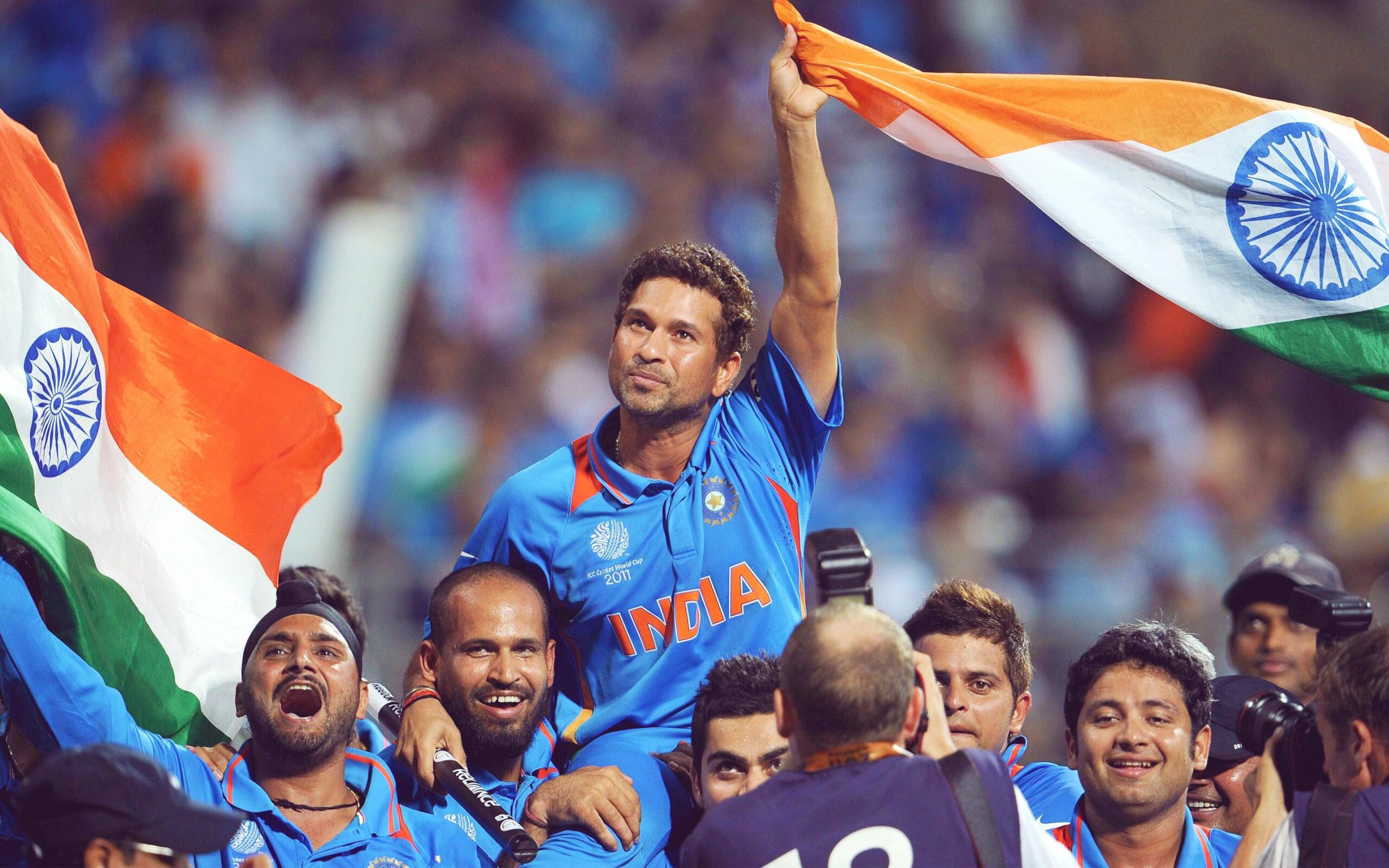 Sachin Tendulkar, most commonly referred to in India as 'The God of Cricket,' has a net worth of $150 million.
Sachin Tendulkar is a former Indian cricketer who is regarded as the best and greatest batsmen in the sport's history.
He is the only batsman in the world to score a hundred international centuries (ODIs, Tests, T20Is).
He was the first batsman who scored a double century in a One Day International.
Sachin has the record of scoring the most number of runs in the history of cricket. He has 34,357 runs to his name.
Sachin made his debut in International cricket in 1989 and retired from all forms of international cricket in 2013. He has played 782 innings in 664 matches.
Sachin Tendulkar became a member of the ICC Cricket Hall of Fame in 2019.
Sachin was the first cricket in the world to sign a multi-million sports management deal ever. In 1995, he signed a deal worth $4.2 million (over five years) with WorldTel. In 2006, he was signed with ICONIX for $25 million (over three years).
Sachin has a restaurant in Mumbai, and another one is in Bengaluru.
Until 2017, Sachin was the co-owner of Kerala Blasters Football Club, a team in the Indian Super League Football.
In 2013, Sachin was ranked #51 in the list of the world's highest-paid athletes by Forbes.
He earns around $20 million annually from several brand endorsement deals and his other ventures.
___________________________________________________________________________
What is Sachin Tendulkar's Net Worth?
The net worth of Sachin Tendulkar is estimated to be $150 million. In his 25 years long international cricket career, Sahin Tendulkar has achieved the utmost heights of accomplishments. He is arguably the greatest batsman the game has ever produced.
Apart from his mind-boggling stats, he is one of the wealthiest sportsmen in the world. According to the Forbes 2019 edition, Sachin's annual earning was $15 million. Most of his wealth resulted from his yearly contract from BCCI when he played for India and the brand endorsements he has done over these years.
___________________________________________________________________________
Sachin Tendulkar Net Worth: How He Created It?
Sachin Tendulkar's net worth of $150 million has been accumulated by the BCCI's salaries to him as a cricketer over 25 years, several brand endorsements, IPL contracts, and other ventures. Sachin Tendulkar was the first cricket ever who was signed up through a multi-million deal with a sports management company. He also became the brand ambassador for MRF for $13.5 million. He was the first cricketer to bag a deal like that.
Sachin retired from international cricket in 2013, and that year itself, he was ranked number 51 in the Forbes list of 'The World's Highest-Paid Athletes.' In 2019, he earned $15 million through various brand endorsements. He used to do brand promotions for Boost, Pepsi, Action Shoes, MRF, Adidas, TVS, and many others. At present, he does endorsements for companies like Sanyo BPL, Toshiba, Colgate-Palmolive, Musafir.com, SBI Mutual Funds, IDBI Life Insurance, Luminous, and Apollo Tyres, and many more.
He owns an extremely luxurious house worth $8.5 million in Mumbai. He also has ownership in two restaurants – one in Mumbai, and the other one in Bengaluru. His wealth also consists of his luxurious car collections. He owns a BMW i8, BMW M5, BMW 750Li M Sport, Mercedes-Benz C36 AMG, Ferrari 360 Modena, and many other expensive cars.
___________________________________________________________________________
Sachin Tendulkar Facts
Full Name
Sachin Ramesh Tendulkar
Net Worth
$150 million
Date Of Birth
April 24, 1972
Place Of Birth
Mumbai, Maharashtra, India
Profession
Former Indian Cricketer
Education
Indian Education Society's New English School, Bandra

Sharadashram Vidyamandir (English) High School, Dadar

Nationality
Indian
Spouse
Anjali Tendulkar
Parents
Ramesh Tendulkar, Rajni Tendulkar
Siblings
Nitin Tendulkar, Ajit Tendulkar, Savita Tendulkar
Nicknames
Master Blaster, Little Master, Tendya
Awards
Arjuna Award – 1994

Rajiv Gandhi Khel Ratna – 1997–98

Padma Shri – 1999

Padma Vibhushan – 2008

Bharat Ratna – India's highest civilian honor – 2014

Wisden Cricketer of the Year – 1997

Player of the tournament – 2003 Cricket World Cup

ICC World ODI XI – 2004, 2007, 2010

Sir Garfield Sobers Award for the cricketer of the year – 2010

Honorary Member of the Order of Australia – 2012

ICC Cricket Hall of Fame – 2019

Records
First batsman to score double hundred in ODIs – 2010

Most ODI hundreds in a calendar year – 9 centuries in 1998

Most number of fifties in Test (68) and in ODI(96)

Most number of Man of the Match awards – 76

Most number of Man of the Series awards – 20

The only player to score 100 centuries in an international career

The only player to play 200 test matches

Most number of test runs – 15,921

Most number of ODIs played by any player

Most number of ODI runs -18,426

The only player to score more than 30,000 international runs

Best Knocks
143 vs. Australia, Sharjah (1998)

140 vs. Kenya, World Cup (1999)

134 vs. Australia, Sharjah (1998)

175 vs. Australia, Hyderabad (2009)

98 vs. Pakistan, World Cup (2003)

117* vs. Australia, Sydney (2008)

200 vs. South Africa, Gwalior (2010)

82 vs. New Zealand, Auckland (1994)

141 vs. Pakistan, Rawalpindi (2004)

163* vs. New Zealand, Christchurch (2009)
___________________________________________________________________________
Sachin Tendulkar's Social Media Profiles
___________________________________________________________________________
Sachin Tendulkar Biography
Sachin Tendulkar was born on April 24, 1973, in Bombay (now Mumbai), Maharashtra. His father, Ramesh Tendulkar, was a Marathi novelist and his mother, Rajni Tendulkar, worked as a life insurance agent. His half brother, Ajit Tendulkar, introduced Sachil to the game of cricket. Ajit noticed that Tendulkar was a gifted player. He then took his brother to Ramakant Achrekar, who was a famous cricket coach in Mumbai. Ramakant Achrekar saw something in Sachin and got his schooling shifted to Sharadashram Vidyamandir School. This school had an excellent cricketing environment and had produced many good cricketers.
With his cricketing techniques, Sachin built a reputation as a prodigy. At the age of 14, he represented Bombay in the Ranji Trophy for the 1987-88 season. However, he couldn't manage to play any game in that season. He made his debut for Bombay the very next year and scored a century against Gujrat. He went on to become the highest scorer of the season.
Sachin Tendulkar played his first international test match against Pakistan in 1989. He was just 16 at that time. Later in the tour, he made his ODI debut too. He was the younger player to debut for India in Tests and ODIs. Sachin Tendulkar made his mark in the 1991-92 tour of Australia, where he scored 148 not out in the 3rd test match. He was the youngest player to score a century in Australia. In the same series, he scored 114 runs on a fast pitch in Perth.
In the 1996 world cup, Sachin Tendulkar was the leading run-scorer for India. He scored two centuries in that world cup. In the 1998 series of Australia, Sachin single-handedly crushed the bowling attack of the cricketing giant. His batting against the world's top spinner, Shane Warne, was a treat to watch. After the series, Warne jokingly said that he was having nightmares of Sachin Tendulkar.
Sachin was given the captaincy of the Indian cricket team in 1996. But the team couldn't perform well under his leadership. His own game took a hit too. He left the captaincy and started concentrating on his own game. In the 2002 series of West Indies, Sachin equaled the famous Bradman's record of 29 Test hundreds. He was at the peak of his cricketing career.
In the 2003 cricket world cup, Sachin scored 673 runs in 11 matches that India played. He helped India in getting into the finals with Australia. However, the most anticipated final was lost, and Australia retained the world champion's title. Sachin was the leading run-scorer of the tournament and was awarded the 'Player of the Tournament' award.
Sachin kept on scoring runs all around the world. He scored 241 not out in the 3rd Test of the series against Australia in 2003. In the second innings, he scored 60 not out. In the next series against Pakistan, Sachin scored 194 runs and stayed not-out again. It was the same year when Sachin went through his infamous tennis-elbow injury. The 2007 world cup was a disaster for the Indian cricket team. The team was knocked-off from the first round itself.
The next world cup in 2011 was a dream come true for Tendulkar and the fans of the Indian cricket team. MS Dhoni was leading the team, and it won the World Cup after 28 years. Tendulkar was India's leading run-scorer in the world cup tournament and scored 482 runs in total. According to him, winning the world cup was the proudest moment of his life.
Sachin scored his 100th international century in 2012, against Bangladesh. He is still the only cricketer who has scored a century of centuries. He took retirement from the One Day Internationals in 2012. He played his last test match against west indies on October 10th, 2013. On that day, he announced his retirement from all international cricket.
In the Indian Premier League, Sachin was the Icon player for the Mumbai Indians. He was signed for $1.1 million in the first season of IPL. In 2010, Sachin took Mumbai Indians to the finals of the tournament for the first time. He was also awarded the 'Player of the Tournament.' of the 2010 season. In 2013, Sachin retired from the T20s, and the Mumbai Indians retired the jersey number 10 as a tribute to the legend.